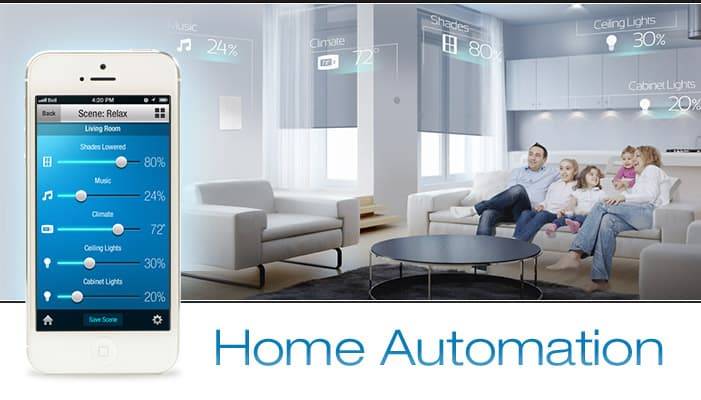 Home Automation
SYSTEL6 is proud to offer cutting-edge home automation solutions that bring convenience, comfort, and control to your fingertips. Our Home Automation Department specializes in integrating advanced technologies to create smart homes that enhance your lifestyle and elevate your living experience.
Our Home Automation Solutions:
Lighting Control: Experience the perfect ambiance in every room with our lighting control solutions. Effortlessly adjust brightness, color, and scheduling to create personalized lighting scenes that complement your mood and activities.
HVAC Automation: Achieve optimal comfort and energy efficiency with our HVAC (Heating, Ventilation, and Air Conditioning) automation systems. Control temperature, humidity, and airflow, and enjoy a comfortable environment while saving on energy costs.
Smart Security: Keep your home and loved ones safe with our smart security solutions. Monitor your property with high-definition cameras, receive instant alerts for suspicious activities, and remotely control door locks and alarms for enhanced peace of mind.
Home Theater: Create a cinematic experience in the comfort of your own home with our home theater solutions. From automated projection screens and surround sound systems to seamless integration with lighting and audio control, we transform your living room into a private entertainment oasis.
Audio Distribution: Enjoy music throughout your home with our multi-room audio distribution systems. Stream your favorite tunes from various sources and control volume and playback in different zones, providing a harmonious soundtrack for every room.
Voice and Touch Control: Take command of your smart home effortlessly using voice and touch control interfaces. With compatibility across popular voice assistants and intuitive touch panels, managing your automation systems becomes a breeze.
Energy Management: Optimize energy consumption and reduce your carbon footprint with our energy management solutions. Monitor and control energy usage in real-time, identify areas for improvement, and make informed decisions to promote sustainability.
Why Choose SYSTEL6 Home Automation:
Expertise: Our Home Automation Department comprises skilled professionals with extensive experience in designing and implementing smart home solutions tailored to your specific needs.
Integration: We seamlessly integrate various automation systems into a unified platform, allowing for centralized control and easy management of your smart home.
Customization: We understand that every homeowner has unique preferences and requirements. Our team works closely with you to customize solutions that align with your lifestyle and fulfill your automation goals.
Reliability: We prioritize the reliability and performance of our systems, utilizing top-quality components and ensuring seamless integration for a flawless user experience.
Support and Training: Our commitment to customer satisfaction extends beyond installation. We provide comprehensive support, maintenance, and training to ensure you make the most of your smart home automation.
Elevate Your Living Experience with SYSTEL6 Home Automation:
Discover the transformative power of smart home automation. Contact SYSTEL6 Home Automation today to explore how we can turn your living space into a futuristic haven of convenience, comfort, and control. Experience the ultimate synergy of technology and lifestyle, making every moment at home a truly remarkable one.